In NRES, our student organizations provide you with the opportunity to network, learn about careers, make friends, and plan field trips together. We hope you join us!
In addition to those listed below, we also recommend checking out the college-level Student Clubs in ACES. In particular we recommend:
Image
Image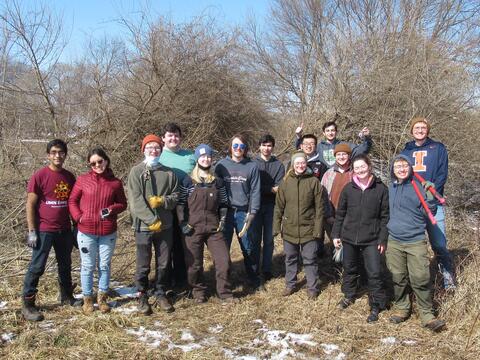 Image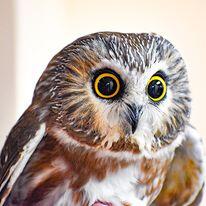 The mission of the American Fisheries Society is to improve the conservation and sustainability of fishery resources and aquatic ecosystems by promoting the development and knowledge of fisheries/aquatic science professionals. The University of Illinois at Urbana-Champaign chapter aims to accomplish this mission through community outreach, professional development of student members, and providing opportunities for citizens and students alike to engage with aquatic resources. To join our listserv (so you can get future emails about meetings and events) please follow this link.
The University of Illinois Beekeeping Club provides students with the opportunity to learn about our local pollinators through hands-on experience. The club has five hives housing about 250,000 bees that produce honey and wax for candles and other products. The busy bees also help pollinate crops, peach trees, and berry bushes at the Student Sustainable Farm!
From the Ground Up (FTGU)'s main mission is to promote sustainability and a greener lifestyle with a restoration focus within the Champaign-Urbana community through hands-on projects, interactions with nature, education, and engagement with students and the C-U community. We are determined to create sustainable native ecosystems on campus and surrounding communities through education, restoration practices, and collaborations with other environmental organizations on campus.
Facebook • Instagram • Twitter
Grow2Give is a mission-driven organization fighting fresh food insecurity through sustainable gardening. The organization builds and maintains raised garden beds on campus, donating 100% of the produce to food pantries that benefit students and community members. During the off season, Grow2Give hosts free, hands-on workshops to better educate individuals on sustainable at-home growing practices and its benefits. 
As a Registered Student Organization (RSO) on campus, Red Bison focuses on practicing restoration ecology throughout native Illinois landscapes in Champaign-Urbana. We maintain local grasslands and forests by controlling invasive species, promoting native species, performing prescribed burns, and learning more about native wildlife. Red Bison also often collaborates with other ecological student organizations on campus, with a focus on sustainability. We also have social events such as bonfires.
Facebook • Instagram • Twitter
Students for Environmental Concerns (SECS) is a registered student organization (RSO) of the University of Illinois at Urbana-Champaign. We promote environmental action on campus by either spearheading campaigns ourselves or collaborating with other organizations on projects that lead to a greener Earth. Specifically, our goals are to work to maintain the stability, integrity, and beauty of the natural world, promote and participate in the sustainable food revolution, and pursue clean energy on and off campus.
Facebook • Instagram • Twitter
vermiCUlture is an environmental organization focused on addressing climate change issues related to food waste management. Since 2021, they have been providing free vermicomposting kits and education materials to students, faculty, staff, and community members in Champaign, Urbana, and Savoy, Illinois.
Facebook • Instagram • LinkedIn
The Wildlife Society's University of Illinois Student Chapter is comprised of students interested in promoting wildlife conservation and is open to all students here at the University of Illinois. Goals of the organization include providing opportunities to gain experience and knowledge about wildlife biology, conservation, and management, and fostering campus and community awareness of wildlife issues. 
Facebook • Instagram • Twitter
The Student Sustainability Committee (SSC) is a group of undergraduate and graduate students dedicated to building a more sustainable campus. With the partnership of a team of staff and faculty members, SSC allocates $1.59 million annually toward the development and seed-funding of projects that have an environmental impact on the university community. The fund is financed through the collection of two student initiated fees, the Cleaner Energy Technologies Fee and the Sustainable Campus Environment Fee.
The following two groups are looking for new student leadership:
Contact us if you are interested in learning more about this opportunity.
Soil and Water Conservation Society
The University of Illinois Urbana-Champaign student chapter of the National Soil and Water Conservation Society works to educate students on the conservation and sustainable management of soil and water resources. Also known as the Illini Soil Judgers, the organization provides students with hands-on experience in soil and water conservation and opportunities to meet with professionals in the field.
Illini Foresters
The Illini Foresters is open to all students interested in the conservation and management of natural resources. Prior activities included volunteer maintenance and cleanup in local parks, controlled burning of tall grass prairies, planting trees, guiding trail walks, assisting local landowners with forest land management plans, participation with other universities in the annual Midwestern Foresters Conclave, and selling Christmas trees in early December.