In NRES, our student organizations provide you with the opportunity to network, learn about careers, make friends, and plan field trips together. We hope you join us!
In addition to those listed below, we also recommend checking out the college-level Student Clubs in ACES. In particular we recommend:
American Fisheries Society
The U of I Chapter of the American Fisheries Society is open to all students and faculty who are interested in the conservation and management of aquatic ecosystems. It is the goal of our chapter to provide people who are interested in fisheries an opportunity to meet one another and learn about fisheries management and conservation. At our biweekly meetings, students are able to socialize, learn about fisheries related jobs and careers, and listen to speakers talk about local and global fisheries issues. Outside our regular meetings, our club sponsors a number of social activities and outreach events that provide students with hands-on fisheries experience.
As a Registered Student Organization (RSO) on campus, Red Bison focuses on practicing restoration ecology throughout native Illinois landscapes in Champaign-Urbana. We maintain local grasslands and forests by controlling invasive species, promoting native species, performing prescribed burns, and learning more about native wildlife. Red Bison also often collaborates with other ecological student organizations on campus, with a focus on sustainability. We also have social events such as bonfires.
Facebook • Instagram • Twitter
Image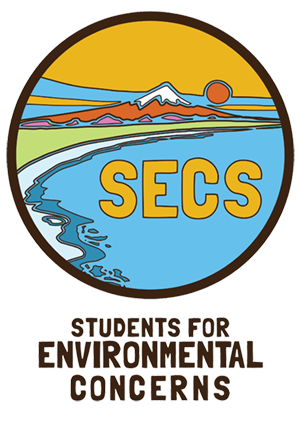 Students for Environmental Concerns (SECS) is a registered student organization (RSO) of the University of Illinois at Urbana-Champaign. We promote environmental action on campus by either spearheading campaigns ourselves or collaborating with other organizations on projects that lead to a greener Earth.
Specifically, our goals are to work to maintain the stability, integrity, and beauty of the natural world, promote and participate in the sustainable food revolution, and pursue clean energy on and off campus.
SECS is the oldest and largest environmental RSO on campus, dating back to 1969. Consisting of three main committees, action, education, and media, we are able to campaign for environmental issues in very integral and effective ways.
Students for Environmental Concerns is always looking for new members! Meetings are Wednesday evenings from 6:30-7:30 PM at the Channing Murray Foundation located at 1209 W Oregon St. Urbana, IL.
 
Image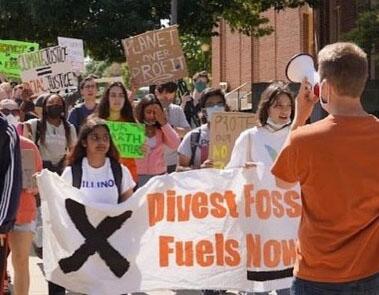 The Wildlife Society's University of Illinois Student Chapter is comprised of students interested in promoting wildlife conservation and is open to all students here at the University of Illinois.
Goals of the organization include providing opportunities to gain experience and knowledge about wildlife biology, conservation, and management, and fostering campus and community awareness of wildlife issues. 
Soil and Water Conservation Society
The University of Illinois Urbana-Champaign student chapter of the National Soil and Water Conservation Society works to educate students on the conservation and sustainable management of soil and water resources. Also known as the Illini Soil Judgers, the organization provides students with hands-on experience in soil and water conservation and opportunities to meet with professionals in the field. Some of our fun activities include soil crayon making, soil T-shirt tye dying, and mock soil judging competitions. E-mail illinisoiljudging@gmail.com for more information about joining the club.
Illini Foresters
The Illini Foresters is open to all students interested in the conservation and management of natural resources. The club is involved with and actively participates in many university, college, departmental, and community activities, including volunteer maintenance and cleanup in local parks, controlled burning of tall grass prairies, planting trees, guiding trail walks, assisting local landowners with forest land management plans, providing a forest land stewardship display and giving away tree seedlings during the College of ACES ExploreACES, and annually awarding a book scholarship to an undergraduate student. A major club activity is participation with ten other universities in the annual Midwestern Foresters Conclave, a competition in traditional forester's skills such as log rolling, speed chopping, buck-sawing, and tree identification. Social events and activities include camping, canoeing and skiing trips, bonfires, and an annual awards banquet. The Illini Foresters funds all of its yearly activities by selling Christmas trees in early December.
USGBC Students-UIUC is a registered student organization, whose goal is to advance US Green Building Council's (USGBC) mission to move towards a prosperous and sustainable future through cost-efficient and energy-saving green buildings. We are officially affiliated with the USGBC, the governing committee for the LEED (Leadership in Energy and Environmental Design) certification program. USGBC is helping advance spaces that are better for the environment and healthier for us to live, work and play in and remains a key driving force in the green building sector.