Image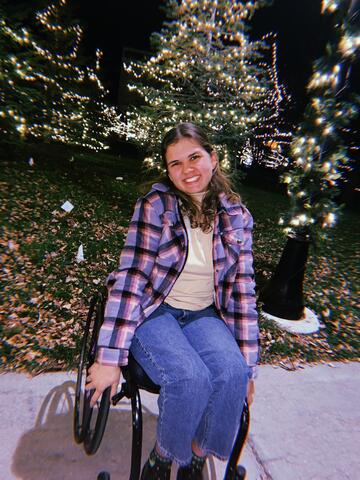 Hometown: Omaha, NE
Year/Graduation: Senior, May 2023
Concentration: Human Dimensions of the Environment
Why Illinois? – What factors helped contribute to your decision to attend the University of Illinois at Urbana-Champaign?
The first thing that drew me in to the University of Illinois was its reputation of being one of the most accessible universities in the world. As a wheelchair user, I respected that accessibility has been a top priority for the University for decades.
U of I is known for its Disability and Resource Education Services as well as its adaptive sports programs. I also liked that U of I was a big campus with tons of resources and opportunities for me to explore my passions.
Why NRES? – Specifically, why did you choose to study Natural Resources and Environmental Sciences?
I chose NRES because I have always been happiest when I am immersed in the natural world. As I grew older and learned about the ways that global warming threatens our planet, I knew that I wanted to spend my life protecting the environments that bring me so much joy.
I knew early on that I wanted my NRES concentration to be human dimensions, but I liked that the NRES program allowed me to explore so many of my interests throughout the years. NRES allowed me to explore solutions to one of the greatest issues our world faces today and even introduced me to fields I had no idea I had a passion for.