Image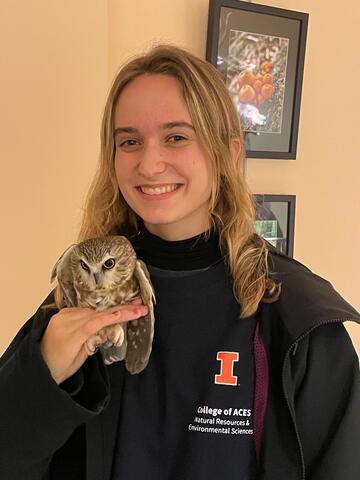 Hometown: Grayslake, IL
Year/Graduation: Senior, May 2023
Concentration: Fish, Wildlife, and Conservation Biology
Why Illinois? – What factors helped contribute to your decision to attend the University of Illinois at Urbana-Champaign?
I originally chose UIUC because of their inclusive financial aid, welcoming campus, and their label as an R1 research institute, but now that I'm here there are so many more reasons to love it.
There are endless opportunities in the Natural Resource field through clubs (like The Wildlife Society, highly recommend), required field courses (all of them are so fun), lab portions of classes, and undergraduate research opportunities, and the ability to take part in all of them has provided me a strong foundation in wildlife research and management.
I've learned how to measure stream health through invertebrate sampling, captured and banded owls and songbirds, surveyed for herps through coverboards, researched a diversity of mammals through camera traps and small mammal trapping, studied endangered species through eDNA lab work, among many more experiences. Furthermore, the professors and TAs here, NRES or not, are always more than willing to talk to you about classes and careers, which is extremely helpful.
All these field and lab experiences makes me feel prepared for both graduate school and my career.  
Why NRES? – Specifically, why did you choose to study Natural Resources and Environmental Sciences?
I have always been fascinated with wildlife in my backyard and beyond (Discovery Channel is my favorite), but I didn't know there was a real career for this until I came to college. I was originally in the Earth, Society, and Environmental Sustainability major in LAS, but I transferred to NRES my freshman year for many reasons.
NRES has hands-on, groundbreaking research opportunities in a variety of fields, their classes provide a comprehensive understanding of wildlife of all taxa, the professors are both exceptional researchers and teachers that are always willing to talk, and NRES requirements prepares you well for a wildlife-focused career.
I did a lot of research into what major was best for my career goals, and NRES was definitely the right choice. If you have any questions about what made NRES such a good fit for me, and what other experiences it offers, please feel free to reach out! I am always open to chat!