Image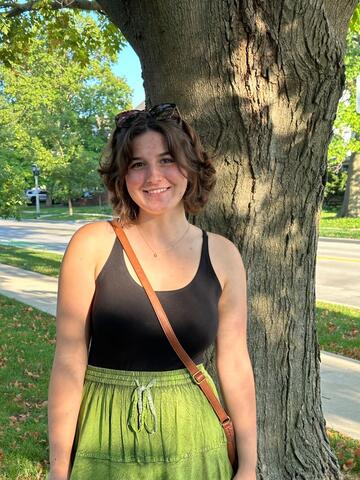 Hometown: Lemont, IL
Year/Graduation: Sophomore, May 2026
Concentration: Ecosystem Stewardship and Restoration Ecology
Why Illinois? – What factors helped contribute to your decision to attend the University of Illinois at Urbana-Champaign?
I chose Illinois because I knew I didn't want to go to school in the city, but I also knew that going to a more rural school would make me feel isolated and restricted. UIUC is the perfect combination of both! I also knew that I wanted to stay close to home, and the transportation available at UIUC makes it super easy to go home whenever I want or need to.
Not only did the location appeal to me, but the sense of community, despite being a large school, was something special about UIUC that I knew I couldn't pass up. With how many clubs, activities, and groups are available to students on campus, there is something here for everyone and anyone to enjoy.
Finally, I was really impressed by the amount and variety of research opportunities available on campus. As a STEM student, this was something that was very important to me during my college decisions, because I knew I wanted to be somewhere where I could broaden my experiences and learn from some of the best mentors and professors in my field.
Why NRES? – Specifically, why did you choose to study Natural Resources and Environmental Sciences?
I became interested in pursuing a degree in NRES after joining the environmental science club at my school. We sometimes worked in a small prairie plot outside of our school, and I became very invested in the hands-on work that it took to maintain the plot. I became interested in restoration and the hands-on care of natural areas. I found that NRES placed a similar emphasis on learning the applicable aspects of skills in ecology, restoration, and stewardship. The professors in NRES study such a wide variety of topics in the field, which opens up so many doorways to their students.
As an NRES student, I have found a strong community of motivated, passionate, and incredibly kind peers, who share the same love and hope for our planet that I do!