Engaging online education to prepare you for consulting and management of water quality, control, and treatment issues.
Degree requirement: Bachelor's degree required
Semester: Spring, fall
Program length: 3 university courses
Format: Online
Estimated Cost: $6,534-$7,260
More detailed information below.
The Water Science and Conservation Professional Development Certificate is designed to prepare students for entry into and advancement in careers in water treatment, water quality monitoring and protection, environmental consulting, Soil and Water Conservation districts, and citizen scientists with water-related interests.
Tuition
Estimated tuition and fees for the Professional Development Certificate depend on the number of courses and hours taken. See Illinois Online for tuition and fee information.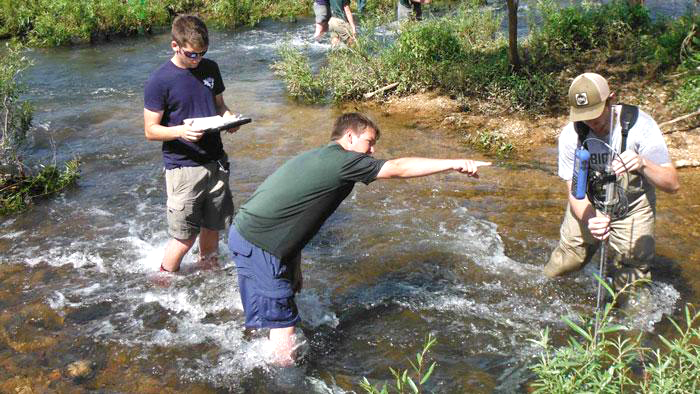 Program Highlights
Courses

Requirements

Complete at least nine credit hours
Take courses for academic credit and earn a "B" or better for all courses

Coursework cannot be used to qualify for multiple certificates but can count towards an Online Master's Degree.

Course list

Complete NRES 474 Soil and Water Conservation (3 Hours)
Complete two approved graduate-level courses. Approved graduate-level courses that meet this requirement are:

NRES 401 - Watershed Hydrology (3 Hours)
NRES 403 - Watersheds and Water Quality (3 Hours)
NRES 490 - Surface Water System Chemistry (4 Hours)
CPSC 417 - Water and Agriculture in the 21st Century (3 Hours)
Other courses as approved by the certificate advisor.

For students wishing to complete both the soil and water certificates, NRES 474  will count for the specific required course for both certificates, but students will only earn the second certificate by completing a third course from the list of approved graduate-level courses.

Availability of Courses

The courses listed in these certificate requirements are all available online to non-degree-seeking students. Click here for the most up-to-date information about when each NRES course will next be available online.
Body
Express your interest in pursuing a certificate. Once accepted, you will receive an email with further instructions for registration.
Title
Complete Certificate
Body
Upon completing your required coursework, you will need to submit a completion request for your certificate.